Do you have an antique or interesting instrument?
Email me and I'll feature your trombone on this page!
---
1927 Conns
Two 1927 Conn .500 bore trombones, tuning in slide. Both lavishly engraved in gold. One, a picture of a gondola on a lake and the other a castle. Both play great and we use them on things like Symphonie Fantastique. These may be the so-called "ballroom model."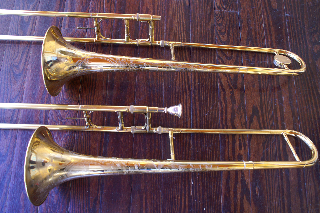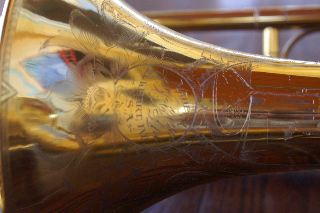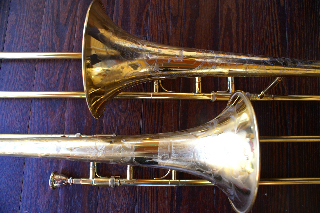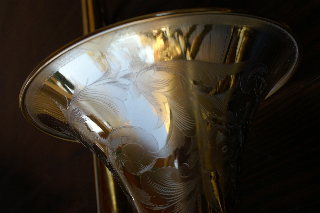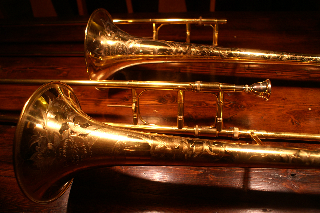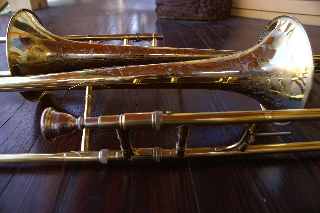 ---
Schopper
This is a Robert Schopper trombone made around 1910. It is very much like the classic Kruspe trombone. There must have been a consensus at the time that this was the standard symphonic model trombone, because it is the same style decoration on the bell and the bore is similar to the Kruspe's and interestingly, what we play today. It has no leadpipe, no tuning slide and no water key as was the custom of that time. I think this type of trombone was developed by one C.F.Sattler (1778-1842) whose trombones so impressed Wagner that he wanted them when he was the conductor in Dresden, presumably at the time of the composition of Tannhauser. The most distinguishing feature of this model was the larger bell, compared to those in the 18th century, which gave the trombone more resonance and power, as was amply demonstrated in the overture to Tannhauser. An interesting feature of these type of instruments is the overtone series, and the tendency for the F above the staff to be somewhat low in pitch, while the rest of the series is relatively in tune. Almost all of these horns have springs to adjust the pitch and even though they have no tuning slide, are quite capable of playing to our modern 440 pitch.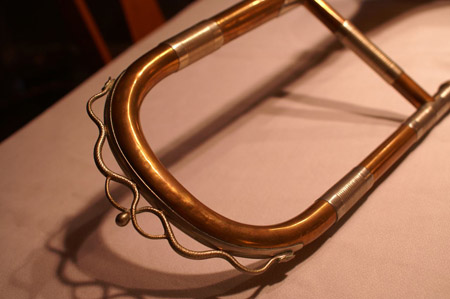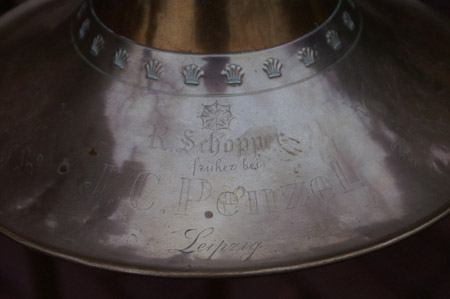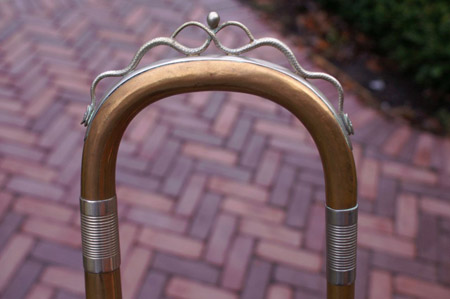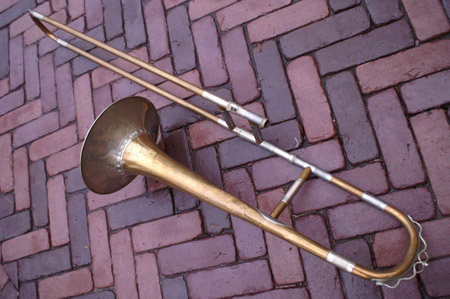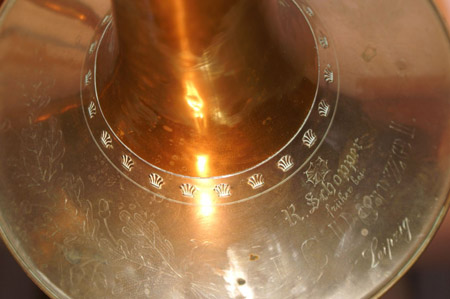 ---
Conn 40H
This is a 1928 Conn 40H 'Ballroom' model owned by Tim Myrto. The bore is .500, it has tuning in slide that works as well as the day it was manufactured, a 7" bell with gold wash, and silver plate with that beautiful engraving.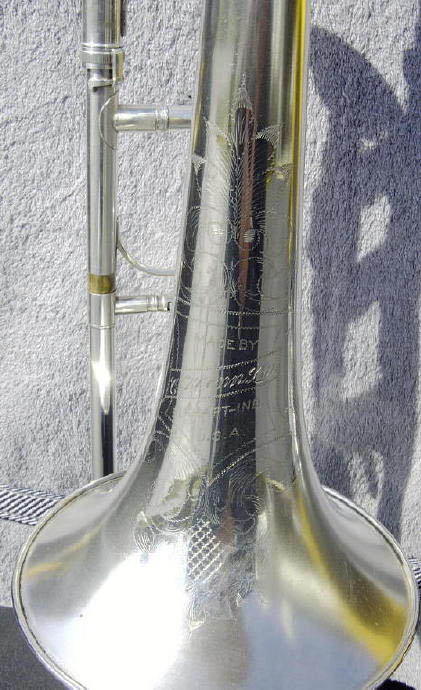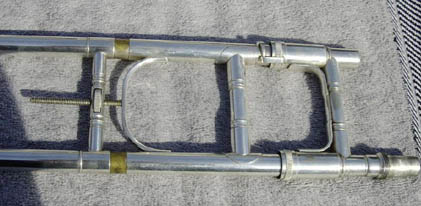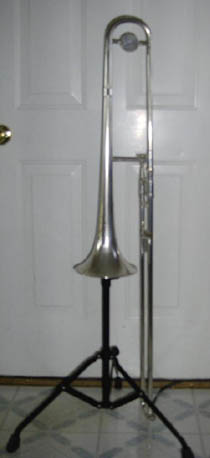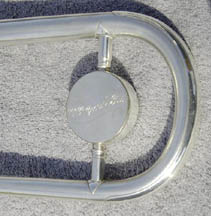 ---
Franz Kuhn
This beautiful old trombone is by Franz Kuhn and is owned by my colleague Michael Mulcahy. Date of manufacture unknown.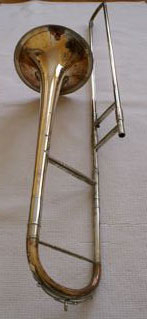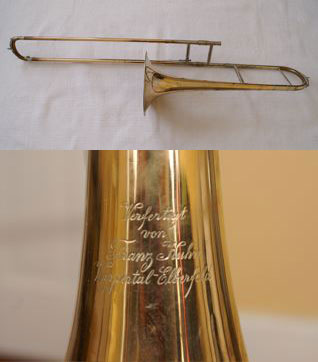 ---
Selmer Bolero
This Golden Oldie pictorial (dare I say "centerfold") features a Selmer "Bolero" model trombone. If you look closely, you can even see the gliss at the end of the engraving. I don't have any date on this horn but it looks pretty old. If someone has some info on this let me know. This horn was given to me by my good buddy Roger Janssen.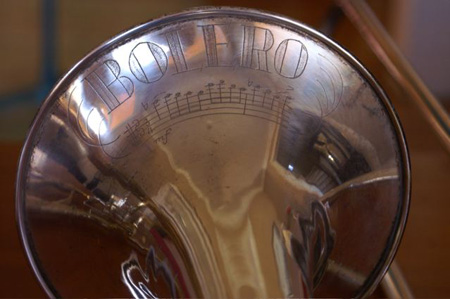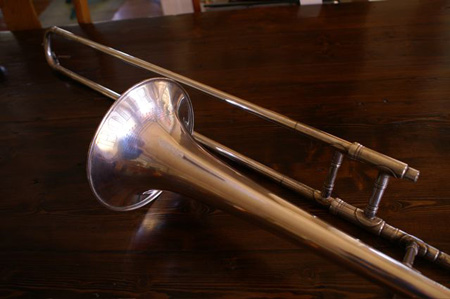 ---
Thein / Kruspe
This alto trombone is a new model from Thein which is based on a pre-WW1 Kruspe that they have restored and carefully updated, but kept the beautiful visual and sonic features of the original, and it plays every bit as good as it looks.
Read more information about this instrument.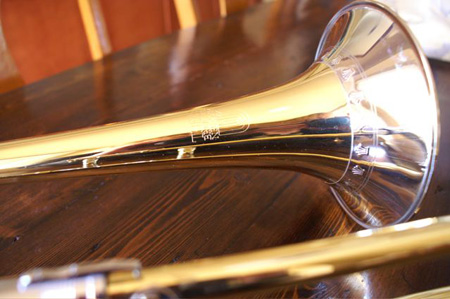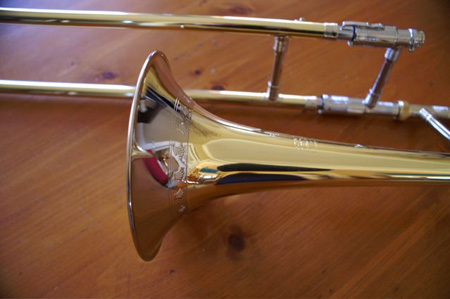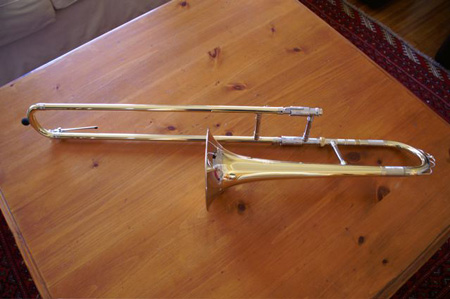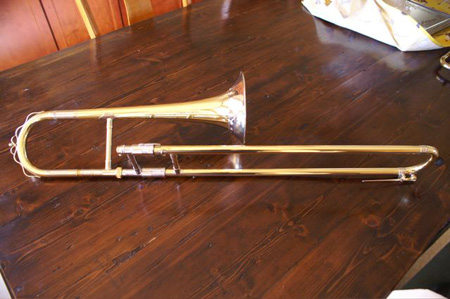 ---
Old Kings
Our first edition of the Golden Oldie project features 2 old King Trombones, which are exceptional for their beautiful engravings. The first one is a horn made in the 1890's that says "THE KING." It is in great condition for a horn its age. It is owned by my golf buddy and fellow trombonist, Ryan Miller. The other one is a "Silvertone" which was the precursor of the 2 and 3B. It has the most elaborate engraving I have ever seen. The bell is Sterling silver and the relief portion is in gold. It dates from the 30's. I found this horn at a flea market, but unfortunately the slide is trashed and needs to be rebuilt.